About us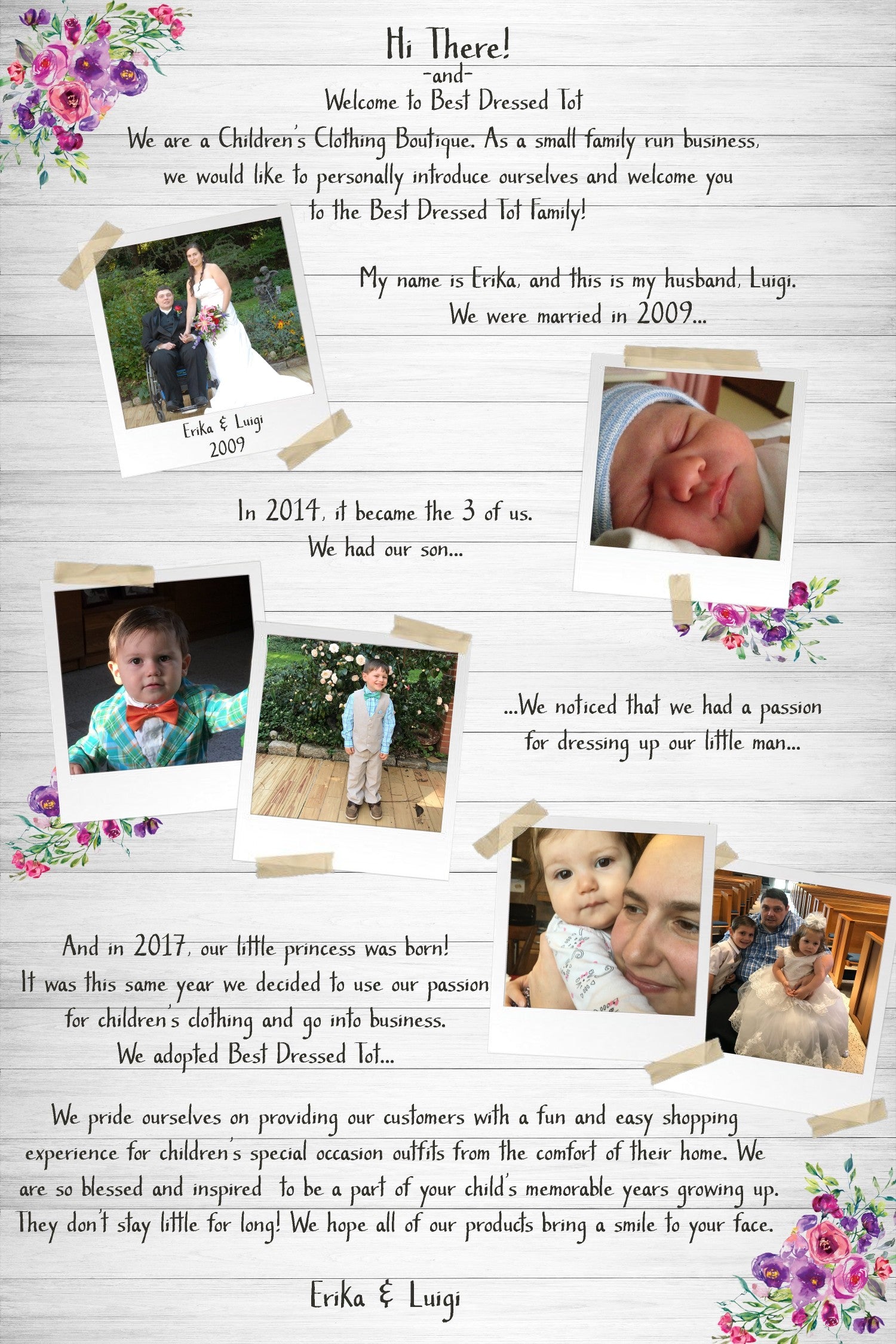 Welcome to Best Dressed Tot!
My story begins as a customer, frustrated because I could not find quality children's clothing with the look that I wanted for my own kids. I have a genuine love and passion for dressing up my children, especially on holidays and special occasions! I love getting compliments on their adorable outfits.
Bow ties, tailored vests and blazers are among my favorites for the boys with a matching fedora of course! And for the little girls, I adore pinafore dresses with Peter Pan collar tops, delicate embroidery, matching tights and accessories. A child's world is filled with imagination, creativity, fun and sparkle and their clothing should reflect this and add excitement to any and every occasion!
So I decided to use my passion and go into business to provide my customers with fun, unique, beautiful and quality children's clothing accompanied by fantastic customer service. As a working mom, I know how busy life can be. I want to give my customers a fun and easy shopping experience in the comfort of their own home.
As a small family run business, you will get very personal service. I pride myself on keeping up with the ever changing fashion industry and providing you with the best. I also have some small, adorable fashion consultants (pictured above) that I routinely ask their opinions! That's why you will find a fair amount of dinosaur and horse outfits here! When you call, it might very well be me answering the phone. And when you receive your carefully packed package, it was probably me who packed it!
I want to personally welcome you to the Best Dressed Tot family! I am so blessed and inspired to be a part of your child's memorable years growing up. They don't stay little for long! I hope all of our products bring a smile to your face. ~Erika Patacca Owner, Best Dressed Tot