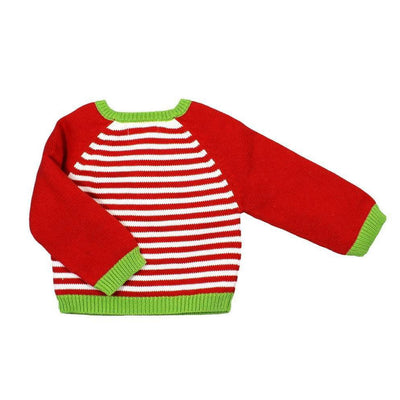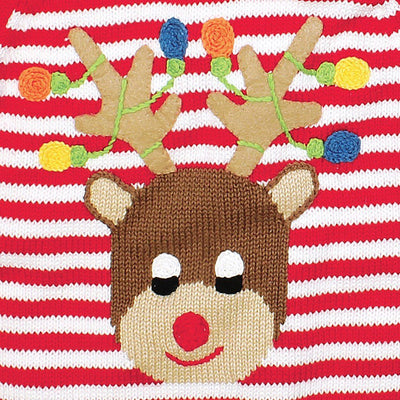 Hand Knit Cotton Reindeer Sweater
Product Code:
zubels-sweater-res-6Month
Manufacturer: Zubels
Description
Zubels hand knit reindeer sweater for babies and toddlers is hand made using 100% cotton yarns.
This sweater comes in a red and white stripe pattern with solid red sleeves and lime green ribbed trim and features an adorable reindeer applique on the front with Christmas lights on his antlers!
Perfect for fall, winter, cold weather, Holidays or Christmas!
Perfect for newborns and older.
Available in sizes 6 month through 4 years.
Features functional buttons on the shoulder making this sweater easy to put on and take off.
Hand made using super soft 100% cotton yarns.
All yarns are dyed using only Eco-Friendly and non-toxic dyes.
Safety tested to exceed Consumer Product Safety Improvement Act (CPISA) requirements.
All details are sewn on instead of using small pieces making this sweater ideal for babies and toddlers!
This adorable hand knit reindeer sweater for babies and toddlers makes a perfect outfit for winter or cold weather!
Washing and Care Instructions
Wash separately in cold water.
Regular wash by machine or hand.
Do not use chlorine bleach.
Lay flat or hang to dry.
Iron if necessary.
Note: Rolling in a towel will help to remove any excess moisture.
Tested 100% safe and made to last!